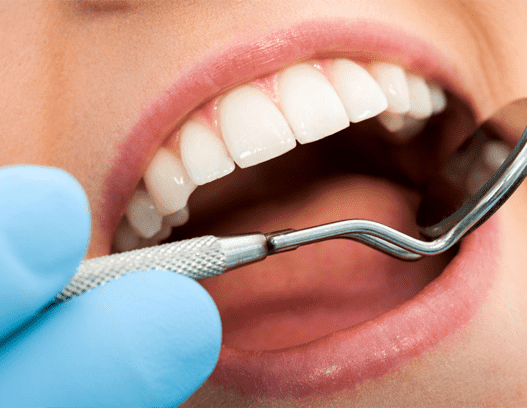 Dentistry
The beauty and health of teeth is an important component of well-being, self-confidence, openness to the outside world. Therefore, we should not forget about aesthetics during the treatment. "Certus" clinic solves aesthetic problems comprehensively. Our dentistry services are aimed at achieving oral health and harmony of a smile with facial features.
A lot of clinics, as well as ours, are engaged in dental care. Still, we succeed to remain experts in the sphere of beauty.
Our dental services
Since we provide a wide range of services, you can contact us with any problems that require professional dental solutions:
Implantation. This procedure involves the insertion of a titanium implant in the upper and/or lower jawbone, which is aimed to take on the role of a pillar (instead of the lost dental root). Subsequently, removable dentures or artificial dental crowns are fixed on it.
Orthodontics. It is aimed at the formation of an anatomic occlusion, an attractive and healthy smile. There are a variety of methods and modern braces (metal, ceramic, sapphire) in this dental field.
Orthopedics. It is aimed to restore the integrity of the dentofacial system, normal chewing function, aesthetics of a smile. In order to manage this, the correction of the dental form and change of the teeth position can be performed. Removable (prosthesis) and fixed dentures (dental onlays, lumineers, ceramic inlays, veneers) can be used.
Whitening. This procedure involves changing the color of the teeth to lighter shades. It is enough to have one procedure in order to get a notable effect.
Periodontics. It is aimed to detect and treat periodontal problems (alveolar tissues) – bone tissue, gingival tissue. Gingivitis, parodontosis, periodontitis are the most common periodontal diseases.
Therapy. Сonservative methods for dental care and oral mucosa are used in therapy mainly. It deals with the restoration of aesthetics, as well as the diagnosis and prevention of dental diseases.
Surgery. It allows performing surgical treatment for oral diseases. It includes tooth extraction, tooth-preserving surgeries, dental crown lengthening, alveoplasty, gingivoplasty, vestibuloplasty.
Endodontics. It deals with the elimination of the infection that has appeared inside the root canal system. The treatment is performed under x-ray control and with the use of modern technology.
A patient consults with a doctor, as well as undergoes a comprehensive diagnosis, which may include a number of examinations before the administration of treatment.
Accessibility and painlessness
We are professionals in our field due to the fact that dentistry is a structural component of our medical center. Experienced anesthesiologists work at our clinic, as a result, the dental surgeries performed by our doctors are painless. Thoroughgoing treatment and teeth removal can be performed while sleeping, so patients do not feel any pain and discomfort.
There is everything to provide high-quality dental services: experienced experts, innovative equipment, modern materials, and preparations in our clinic. We help to return a smile to your beauty!